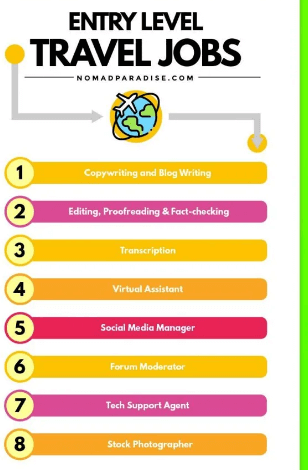 The travel industry is booming, and with it, the number of jobs in the travel tech field. Whether you're looking for a temporary gig or a long-term career change. There are plenty of options available in the travel tech world. In this article, we'll explore why choose travel tech jobs and what makes them so special. We'll also provide tips for finding your perfect job and making the most of your career in the travel industry.
Why travel tech jobs?
One of the main reasons why people choose travel tech jobs is because they offer a lot of flexibility. With so many different destinations and countries to visit, work from home options, and the ability to work from anywhere in the world, these jobs allow you to explore new places without having to miss any important deadlines. Additionally, many travel tech companies are constantly expanding their operations by hiring new employees, so there's always room for you to grow and learn new things. Finally, many travel tech jobs offer competitive pay rates and excellent benefits such as medical insurance and 401k plans.
The benefits of traveling for work
There are many reasons to choose travel technology jobs, some of which include the following:

– Flexibility: Many travel technology jobs allow for a great deal of flexibility in terms of hours, location, and work/life balance. This is especially important for those who want to be able to take care of their personal and family obligations while still having a job that fulfills them.

– Variety: Travel technology jobs offer an opportunity to work with different companies and technologies, which can give you valuable experience and knowledge that can help you stand out from other candidates.

– Better opportunities: While it is always important to research a specific job before applying, it's also true that many travel technology jobs offer better opportunities than traditional tech jobs. For example, many positions in the industry involve working with clients or customers on a daily basis, which often comes with more exposure and responsibility.
What are the best travel tech jobs?
With the advent of technology, many jobs have become computerized. This means that many of the traditional travel agent jobs, such as customer service and reservations, can now be done more efficiently with a computer. While not all travel tech jobs involve computers, they often require strong skills in customer service and computer usage.

Some of the best travel tech jobs include:
-Reservationist
-Computer Systems Analyst
-Web Developer
-Tour Operator
How to find the right travel tech job
Finding the right travel tech job is a challenge, but it's not impossible.

1. Do your research

Before you even start looking for a job, make sure you have a clear idea of what type of travel tech job you are interested in. This will help you narrow down your search and target companies that might be a good fit for your skills and experience.

2. Consider your skills and experience

Once you know what type of travel tech job you are looking for, it's important to focus on the specific skills and experiences that are necessary for the position. Make sure to list any relevant experience or qualifications you have in the job description section of your resume. Also be ready to discuss these items during interview screenings.

3. Networking is key

The best way to find a travel tech job is by networking with people in the industry. Not only will this help you learn about upcoming opportunities, but it can also lead to connections with hiring managers who might be interested in hearing about your experience and skills.
Conclusion
As technology continues to evolve and the digital world expands, so too does the demand for skilled travel tech professionals. Whether you're looking for a new challenge or want to find a more flexible job that allows you to work from anywhere in the world, there are plenty of travel tech jobs out there that would be perfect for you. With continued growth in the industry, now is definitely a great time to get started in this field and see where it takes you.